Solar Panel Cleaning in Augusta, GA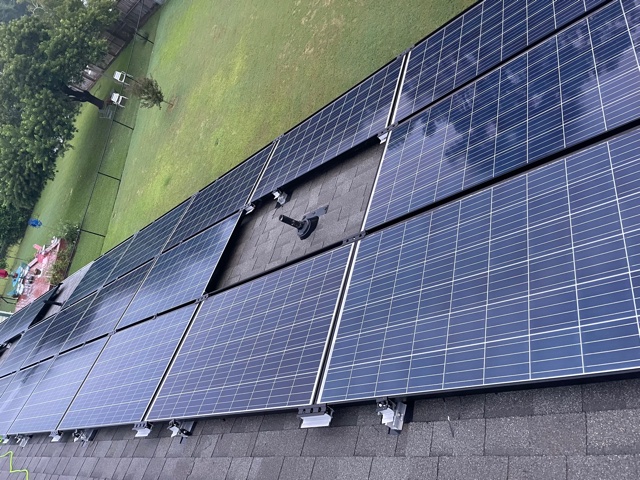 Solar panels are an effective source of renewable energy. They are low maintenance and will reduce your electricity bill. If you already enjoy the benefits of solar energy, our pressure washing experts specialize in solar panel cleaning. Over time, pollen, dust, and dirt settle on the panels; as environmental materials accumulate, it decreases the amount of sunlight the solar cells receive, decreasing the cells' effectiveness. Therefore, keeping the glass panel faces clean maximizes the system's ability to generate electricity. Studies show that solar panels cleaned by professionals have a 12% -15% higher output of electricity compared to those cleaned by rain alone.
Our team of skilled professionals use a soft wash roof cleaning process and specialized cleaning solutions and no pressure to gently eliminate contaminants without causing damage to your roof or solar panel's surface in the process. We will help you keep your rooftop and solar panels in the best shape possible to guard it against harm and keep it looking great.
Contact the Augusta area solar panel cleaning experts at Savannah River Pressure Washing and let our trained professionals clean your solar panels so they can get back to generating electricity at their peak performance.
Effectively Cleaning Solar Panels For Maximum Efficiency
As with any feature of your home, solar panels require maintenance and cleaning. In fact, routine cleaning is one of the most effective methods to use to avoid repairs and ensure maximum performance from your panels.
Savannah River Pressure Washing uses safe but thorough exterior surface cleaning techniques to provide you with sparkling clean solar panels. For a greener home, you need cleaner solar panels; it's as simple as that.
It's essential to partner with pressure washing pros who have the knowledge and experience to safely clean your delicate exterior surfaces, like glass and asphalt shingles. We use soft washing or no-pressure cleaning to provide the best results.
Getting The Job Done The Right Way
Our team uses specialized cleaning solutions and methods to ensure thorough cleaning for all of your surfaces, including solar panels. You can trust us to:
Use the safest cleaning method for the surface
Eradicate common debris and dirt found on solar panels
Thoroughly rinse away residue
Monitor your panels during drying to eliminate spots, streaks, and deposits
We're here to help you get the most out of your solar panels. Our professional cleaning will improve your panels' look, condition, and functionality. Call us now to schedule your pressure washing service.
Latest Solar Panel Cleaning Projects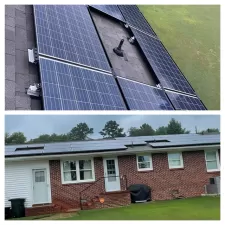 Customer contacted us at Savannah River Pressure Washing to clean their Solar Panels. We arrived and sucessfully clenaed the dirt and debris from the Solar Panels restoring them to their maximum energy production. We also cleaned the sky lights and sky domes for the customer. The […]