Patio Stone Sanding & Sealing For Augusta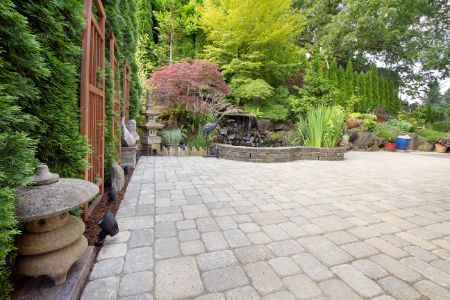 If you've got stone flooring in your patio in Augusta, you know just how beautiful of an addition it is to your home. Make it last longer and look better with patio stone sanding and sealing from Savannah River Pressure Washing. Natural stone is no doubt a worthwhile investment for your property, but keeping up with it can be tough. While stone is a harder material, that doesn't mean it's indestructible. Constant foot traffic, dropped items, and even food and drink spills can do a number on your stone flooring and make it look dull and uncared for, not to mention the onslaught of the outdoor elements. Stone is especially prone to being chipped and cracked with impact and isn't easily repaired without a full replacement.
This is where our patio stone sanding and sealing services come in! Our pressure washing team has the industry's highest-quality sanding equipment to give your stone flooring a smoother, more level surface, and our sealing products are sure to give your floors a protective barrier against whatever is thrown their way. Not only will patio stone sanding and sealing make your stone patio floors last longer, but it will make them look great, too. Our sealing products will bring out the natural beauty of your stone floors, giving them a more vibrant look.
Call Savannah River Pressure Washing when you're in need of patio stone sanding and sealing services in Augusta. Our team of professionals is dedicated to getting you what you want most when it comes to your home's exteriors– boosted curb appeal and the utmost protection.
Paver Sanding and Sealing
Pavers are another patio flooring material that offer both beauty and functionality to your Augusta property. Although they might not provide the same dainty, more natural look that natural stone provides, pavers are still a high-quality installation that many Augusta homeowners love. Savannah River Pressure Washing is happy to provide sanding and sealing services to homes with paver patios as well.
Pavers can take quite a beating from the elements, but over time, you'll start to see signs of inevitable wear and tear from UV exposure, heavy rain, and more. Even just regular usage of your paver patio can lead to deterioration in both appearance and integrity. With our sanding and sealing services, our team can bring your pavers back to life!
When you want patio stone sanding and sealing services that will restore and enhance your patio floors, the name to know is Savannah River Pressure Washing. Give us a call today to learn more about this service or to make an appointment for any of our other services, including our high-quality solar panel cleaning.