Gutter Cleaning & Brightening For Your Augusta Gutters, Inside & Out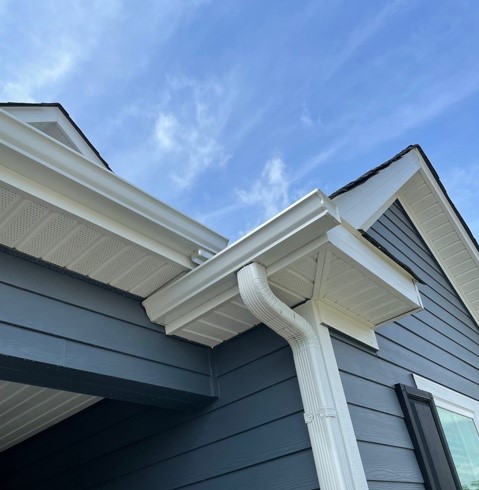 Many Augusta homeowners out there tend to underestimate the important role their gutters play in the overall safety of their home, and if you're one of the many homeowners out there whose gutters are stuffed full of debris, you could be setting yourself up for trouble. Regular gutter cleaning is an important part of maintaining your home, and when you're looking for pressure washing in Augusta that can help with your gutter cleaning needs, Savannah River Pressure Washing is the only name you need to know. Are you looking for a professional Augusta pressure washing pro you can trust with your home's gutter cleaning needs? If so, give our team of skilled professionals a call today and let us show you the kind of quality results that have helped make us the most trusted name in gutter cleaning and house washing the area has to offer.
Clogged gutters can actually lead to serious roof damage if you aren't careful, or could even result in your gutters tearing away from your home. With our comprehensive gutter cleaning services, however, our team of skilled professionals can help you keep your gutters in good working order all year round. If you have any questions about our full line of gutter cleaning services, or if you would like to get your free estimate for your next project, give us a call today. Our team of experts are always standing by and would be happy to assist you in any way we can.
Gutter Brightening: Pressure Wash Your Gutters Inside and Out
In addition to helping guide water down from your roof, your gutters play a noticeable role in the overall appearance of your home as well, and if yours are caked in grime and mildew, it could leave your home looking dingy as a whole. With our comprehensive gutter cleaning services, our team of skilled pressure washing pros will not only remove any debris that might be present, but we'll also work to ensure your gutters are sparkling like new by the time we're through. If you're ready for your gutters to look as good as they did the day they were installed, give us a call and let our team of pressure washing pros show you what we can do.
Gutter Cleaning
The problem with gutter cleaning is that it often gets neglected because the inside of the channels isn't something you see. When the exterior of your gutters gets terrible, you may notice, but regarding the interior, it's "out of sight, out of mind."
Let Savannah River Pressure Washing provide you with careful but thorough cleaning for inside your gutters so that you can reap the benefits:
Better flowing channels
Avoid clogs and blockages
Prevent stains from overspill
Protect your foundation and basement from flooding
Increase the lifespan of your gutters
Lower the risk of stagnant water and attracting insects
Even if you have gutter guards in place, it doesn't eliminate the need for cleaning; it just reduces the frequency. Your gutters work hard to protect your roof, your foundation, and your home. Help them do a better job by keeping them cleaned and maintained.
Our crew of skilled technicians is standing by and ready to provide you with superior service. We'll clean out the gutters and remove dirt, debris, and unwanted obstructions. Before the weather turns and causes your gutters to fill up again, call to schedule your gutter cleaning.
Gutter Brightening
It seems it doesn't take long for new gutters to begin to look less than spectacular. It's to be expected with the constant exposure to the elements. Unfortunately, those dismal-looking gutters are going to become the focal point of your home.
Gutter brightening is an effective way to restore the appearance and condition of this feature of your home. If you'd like your gutters to look as sparkling clean as the day they were installed, we have the perfect solution for you.
Using an intensive but safe cleaning method to enhance the look of your gutters also removes contaminants and substances that will leave your drains in a state of disrepair over time:
Algae
Bacteria
Mold
Bird & Pest Waste
Corrosive Substances
Reverse the damaging effects of time and revitalize the aesthetics of your gutters with our cleaning and brightening services. It's gentle cleaning care that does wonders for your gutters.
Latest Gutter Cleaning & Brightening Projects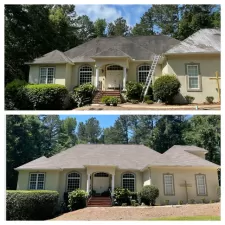 The owners of this beautiful property contacted Savannah River Pressure Washing to wash the house, clean out the gutters, and wash the roof to refresh the overall appearance of the home. Services: Gutter Cleaning Roof Cleaning House Washing Budget: $1000 […]