Professional Augusta Commercial Exterior Cleaning You Can Trust To Care For Your Business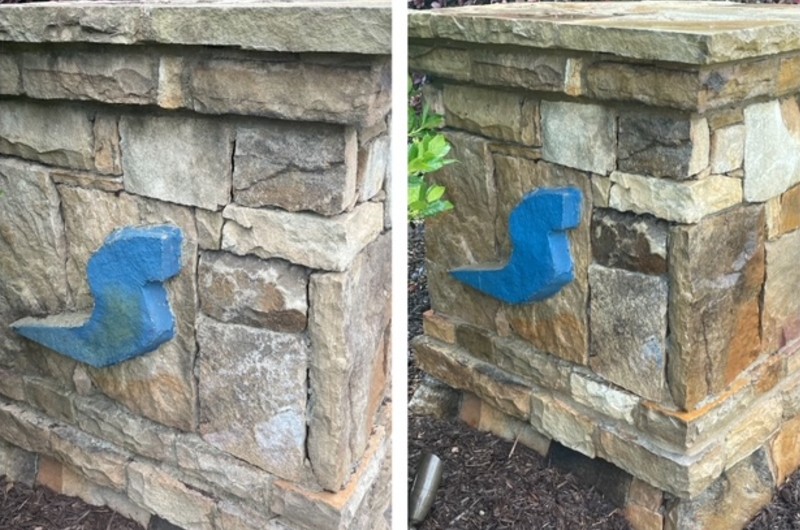 As a successful business owner here in the Augusta area, you understand how important it is to make a good first impression on your customers, and one of the best ways to do so is with a clean business exterior. When you're in need of comprehensive commercial exterior cleaning services to help you keep your local business property looking its best, you can count on the skilled Augusta pressure washing pros here at Savannah River Pressure Washing to get the job done. Are you looking for a professional Augusta pressure washing company you can count on for all of your commercial exterior cleaning needs? If so, give our team of skilled professionals a call today and let us show you the kind of quality results that have helped make us the most trusted name in commercial exterior cleaning and deck cleaning the area has to offer.
As the premier pressure washing pros serving the Augusta area, Savannah River Pressure Washing has what it takes to deliver the exceptional commercial exterior cleaning results you need to keep your local business property looking its best year after year. Not only will this help to make a better impression on your customers and clients, it will also help to keep the exterior surfaces of your business better maintained, increasing their lifespan. If you have any questions about our full line of commercial exterior cleaning services, or if you would like to get an estimate for your next project, give us a call today. Our team of experts are always standing by and would be happy to assist you in any way we can.
Augusta's Best Commercial Exterior Cleaning
If you run a business in Augusta, then you understand that the exterior appearance of your building is an extremely important aspect of your success. First impressions are crucial, especially when your bottom line is at stake. The last thing you want is to lose customers to your competition just because your exteriors are dirty and unkempt. That is why Savannah River Pressure Washing offers commercial exterior cleaning services.
Our pressure washing technicians are professionally trained and possess the skills and tools necessary to thoroughly wash and effectively deep clean any commercial hardscape with ease and precision. By using a combination of specialized equipment and hand-mixed cleaning solutions, we can cater to the unique needs of your individual business. We get to the root of your dirty problem and deeply clean your surfaces, restoring them to a pristine and presentable state. That's why we are the number one choice among businesses in Augusta for commercial cleaning services!
What We Can Do For Your Augusta Business
Here at Savannah River Pressure Washing, we offer both pressure and soft washing services that clean all of your commercial exteriors. We can wash concrete, asphalt, brick, wood, stucco, siding, and any other building material with the utmost care and attention. We can also safely clean your roof, siding, building exterior, parking lot, walkways, and all other exterior aspects without damaging any part of it.
We don't use sandblasters or acid, but instead powerful cleaning solutions alongside and controlled water pressure. By mixing our cleaning solutions, we are able to manipulate their concentration to provide the perfect clean for a particular surface. We also control the amount of pressure used in our machines so that the water washes deep into the pores of the material without causing any unnecessary damage.
Whether your parking lot suffers from unsightly grease spots or your garage has pesky rust stains, Savannah River Pressure Washing can get the job done. From front walkways to your awnings, we can get every aspect of your building as clean as the day it was installed. Don't lose business because of unsightly stains. Call us today!
Recent Commercial Exterior Cleaning Projects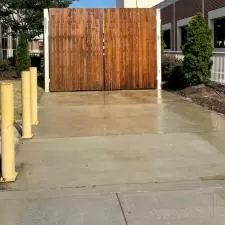 Property management company contacted Savannah River Pressure Washing after receiving a citation for the dumpster pad enclosure being out of compliance. Savannah River Pressure Washing technicians arrived and noticed poor housekeeping from pallets left outside of the dumpsters to dirt, debris, and oil on the dumpster […]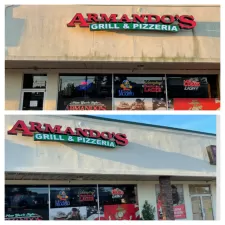 Customer contacted Savannah River Pressure Washing for us to clean the sign and front of their restaurant. When we arrived we discovered organic acumulation on the stucco front of the restaurant. We proceeded to successfully restore thebeauty of the store front by using our standard soft […]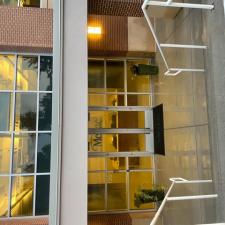 The customer contacted us at Savannah River Pressure Washing to remove the organic build up on the landscape wall as well as clean the concrete to the entrance of the facility. When we arrived we discovered heavy accumulations of moss, mold, and mildew on the very […]