Roof Washing For Your Augusta Home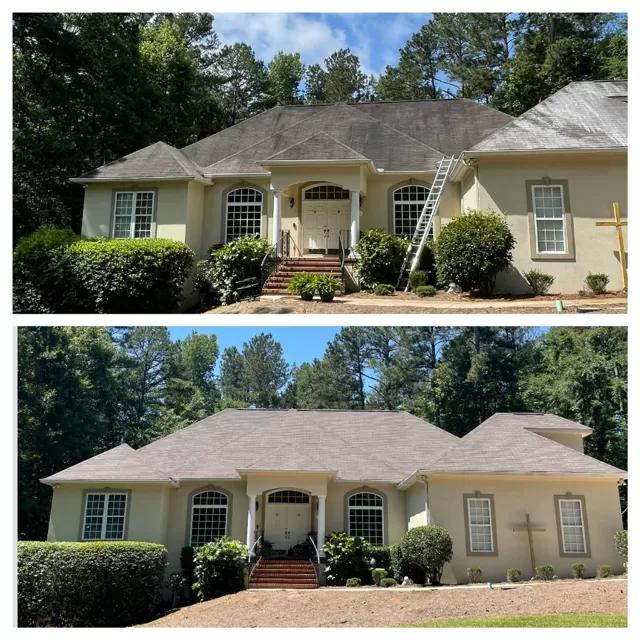 Your roof is without a doubt the most important surface on your Augusta home, providing an important layer of protection to the rest of your home against the elements. In order to keep your roof in the best shape possible, regular roof washing is incredibly important, and here at Savannah River Pressure Washing, we're the premier name for pressure washing in Augusta you can trust to get the job done right. Are you looking for a professional Augusta pressure washing company you can trust to help with all of your home's roof washing needs? If so, give our team of skilled professionals a call today and let us show you the kind of quality results that have helped make us the most trusted name in roof washing and house washing the area has to offer.
Here at Savannah River Pressure Washing, we understand the importance of keeping your roof clean and free of debris and contaminants, and to help you do so, we offer a comprehensive range of quality roof washing services. With our full lineup of roof washing services, our team of skilled professionals can help you keep your rooftop in the best shape possible in order to guard it against harm and keep it looking great. If you have any questions about our full line of high-quality roof washing services, or if you would like to get an estimate for your next pressure washing project, give us a call today. Our team of experts are always standing by and would be happy to assist you in any way we can.
Beautify Your Entire HomeWith Roof Washing
The roof of your home in Augusta plays a large role in how you and your family view and enjoy your property. If your roof becomes dirty and unsightly, it can detract from your everyday experiences, worsen the first impressions of your friends and guest, and even lower the value of your residence. At Savannah River Pressure Washing, our pressure washing company can help you avoid all of these problems and more regular roof washing services.
Our pressure washing company has been proudly serving the Augusta community for a while now, and through this time, our professionals have made it our priority to achieve the highest levels of customer satisfaction in everything that we do. We will certainly bring this dedication to excellence to the task for you during your next roof washing service!
Call Savannah River Pressure Washing today if you're in need of a professional pressure washing company in Augusta that specializes in roof washing services. Our courteous and polite staff would be happy to take your call, answer any of your questions, or schedule your next appointment today.
Roof Washing Customized to Your Needs
At Savannah River Pressure Washing, our pressure washing contractors have the knowledge, skill, and experience necessary to provide you with the most customized roof washing services possible. Throughout our years of service in this industry, we have perfected our methods, equipment, and detergents for a wide range of applications. For delicate roofing systems, our team can achieve the highest levels of cleanliness through our soft washing services.
Soft washing is an amazing way to lift algae, mold, pollen, and other stains from the surface of delicate roofing surfaces such as asphalt shingles. When you hire our professionals for the task, you can feel confident knowing that your roof will be cleaned exquisitely, while being protected from any harm whatsoever. You and your family are guaranteed to be pleased with the results!
Roof Washing Services Add Value to Your Augusta Home
The roof of your home in Augusta takes up an immense amount of your home's surface area. As such, it practically defines the look and feel of your home. If your roof is stained by algae, mold, or rust, the curb appeal of your home will be dramatically impacted. Luckily, our experts can help you add substantial value to your home through our roof washing services. Through our quick and easy pressure and soft washing services, our team will breathe new life into your home, leaving your roofing system looking absolutely amazing.
Latest Projects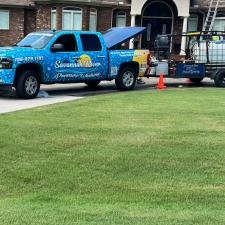 Savannah River Pressure Washing Technicians safely and effectively performed House, Window Soft Wash, and Roof Soft Wash Revitalization treatment on this beautiful Augusta, GA home. The customer is extremally satisfied and has recommended Savannah River Pressure Washing to friends and family. Savannah River Pressure Washing arrived […]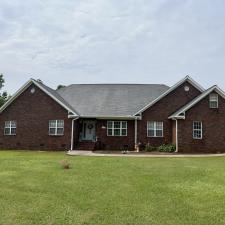 Savannah River Pressure Washing Technicians safely and effectively Soft Washed the home removing the algae, mold, and mildew from the home. Savannah River Pressure Washing also Safely and effectively performed a Soft Wash Roof Revitalization treatment on the roof removing all organic growth. The customer was […]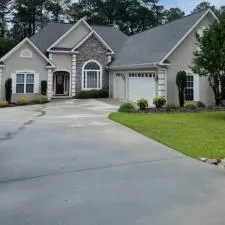 Savannah River Pressure Washing arrived at this McCormick, SC home to Soft wash the house, Soft Wash the roof, and pressure wash the driveway. We found heavy organic accumulation of mildew, mold, and algae on the house, roof, and driveway. Savannah River Pressure Washing used standard […]